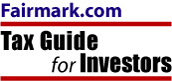 www.fairmark.com

Trader Status Web Site
We tried to provide all the essentials in our Tax Guide for Traders. There are plenty of other web sites that provide additional tax information for traders. Most of them are truly awful, however. For some reason, people with little genuine knowledge of this area feel free to set themselves up as experts, providing misinformation and Lord only knows what kind of service to their clients.
Fortunately, we've found one other site maintained by a tax pro with genuine knowledge in this area. Colin Cody has been helping people on the Internet for years, and I was pleased when he decided to establish his own web site with a focus on trader tax issues. His Trader Status web site at http://www.traderstatus.com provides information on various topics of interest to traders.
Perhaps most intriguing is his Tax Advice Hall of Shame. It isn't surprising to me that he found so many examples of incorrect statements about trader taxation ? after all, he had so many to choose from. But Deloitte & Touche? C'mon, you guys are supposed to know better!
by Kaye Thomas

TAX GUIDE FOR INVESTORS
HOME SITE MAP CONTACT US LEGAL
A publication of Fairmark Press Inc.
Copyright 1997-2015, Kaye A. Thomas
All rights reserved